Today is
Thursday, June 1, 2023
April 24 2023 – Bible Verse of the Day – Monday of the Third Week of Easter – You Are Looking For Jesus Because You Ate The Loaves and Were Filled – John 6:22-29
26 Jesus answered them and said, "Amen, amen, I say to you, you are looking for me not because you saw signs but because you ate the loaves and were filled.

27 Do not work for food that perishes but for the food that endures for eternal life, which the Son of Man will give you. For on him the Father, God, has set his seal."

John 6:22-29
Let us Pray: Dear Jesus, please guide me in my search for you. I am in need of your aid and restoration. However, my desire is not just to seek you for help, but also to seek you out of love.
My love for you, dear Jesus, is real, but I ask for your help to deepen and strengthen that love. Jesus, I love you, and I pray for your assistance in growing closer to you. Amen.
Catholic Readings For Today
Monday of the Third Week of Easter
Bible Verse of the Day for April 24 2023 Reflections
This passage speaks directly to the core of our life's goals. What is your focus? Are you putting most of your effort into acquiring temporary, worldly possessions, while only dedicating a small portion of your time to seeking eternal nourishment? Or is it the other way around?
It's peculiar how we can easily become fixated on pursuing the material possessions and pleasures of this world.
As illustrated in the previous passage, people were searching for Jesus because he had provided them with food the day before and they were once again hungry. Their focus was solely on satisfying their physical hunger.
In a gentle manner, Jesus corrects them and utilizes this situation to highlight the true purpose for seeking him.
He desires to provide them with the spiritual nourishment of eternal life, which is the ultimate goal. It's up to each individual to allow the Lord to reveal what type of sustenance he wants them to pursue in their heart.
To allow the Lord to answer us, there are two fundamental inquiries we must contemplate.
The first one is, "What do I want out of life?" It's essential to dedicate time to ponder this question in solitude and be truthful with ourselves. What are our true desires? What does our heart yearn for?
Being truthful with ourselves and facing our desires can lead us to realize that we possess certain longings that weren't placed in our heart by Christ.
It's highly probable that we have a multitude of such desires. Recognizing and acknowledging them is the initial step in discovering what kind of nourishment Jesus truly intends to provide us.
The second significant inquiry to consider is whether we are seeking Jesus for the appropriate reason.
When we're unwell, we seek a doctor to heal us, and when a child is in pain, they frequently turn to a parent for consolation. This is acceptable, and we tend to do the same when we need help.
When we feel disoriented and uncertain, we typically seek God for guidance and support. However, it's preferable that we go beyond seeking God solely for healing or comfort.
Our ultimate goal should be to seek God out of love. We should desire to seek Him simply because we love Him and want to deepen our love for Him even further.
Today, take a moment to contemplate your eagerness to seek Jesus, or the lack thereof.
If you can initiate seeking Jesus purely because of your love for Him and the desire to love Him even more, you're on the correct path.
As you journey down this path, you'll realize it's a route of pure joy and satisfaction.
Bible Verse of the Day in Pictures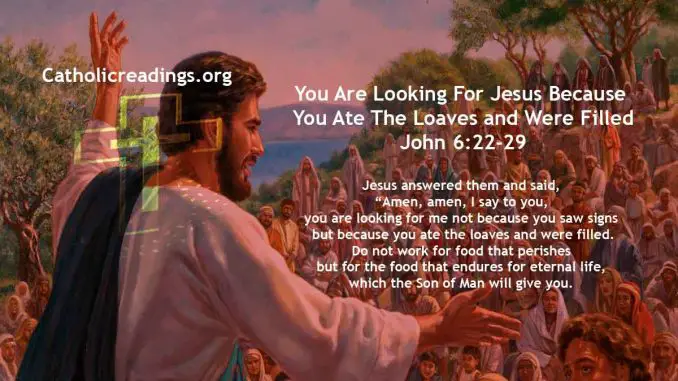 Related Links
Powered By SEO Experts
Follow @ReadingCatholic