Today is
Saturday, September 30, 2023
Dear Lord, I express my gratitude for and pray for our teachers for the vital role they play in the lives of children and in our community.
Please bestow them with serenity in their classrooms as they carry out their daily duties, deliver their lessons, and assign their tasks with Your benevolence.
I implore for unity among students and for tranquility and amicability to reign every day. Amen.
A Teacher's Prayer
Omnipotent and everlasting God, today we offer our gratitude for all the teachers in our lives. We thank You for their dedication in imparting knowledge and shaping the forthcoming generation of this nation. We give thanks to You for their contributions, and we appreciate them all.
Father, we implore You to invigorate them with courage through Your mighty Spirit. Strengthen them so that they can face every challenge without becoming weary.
Grant them Your wisdom so that they can make sound decisions when guiding and assisting others. Bestow upon them Your peace so that they will not be overwhelmed when faced with stress and anxiety.
Fill them with Your joy so that their enthusiasm for their subject becomes an infectious passion that spreads to others. We make this request in the wonderful name of Jesus. Amen.
Prayer by a Teacher
Dear Lord, as a teacher, I humbly come before You to seek Your guidance and grace. Please help me to be a fine teacher who fosters peace in the classroom and among my students.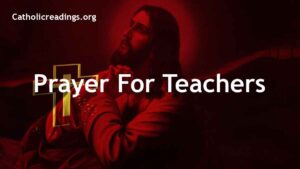 May I always be kind and gentle to each and every one of my students, showing them Your love through my actions.
Please help me to be merciful to my students, to balance mercy and discipline in the right measure for each student, and to give genuine praise as much as possible.
When I need to give constructive criticism, please help me to do so in a way that is easy for my students to receive it.
Help me to always remain diligent in making my lessons engaging and identifying the unique motivators of each student, without holding their limitations against them.
May I approach each student with fairness and avoid harsh judgment, striving always to be a good role model. Above all, Lord, please allow me to demonstrate your love to each and every one of my students. Amen.
Powered By SEO Experts
Follow @ReadingCatholic