Today is
Saturday, March 25, 2023
Gracious God, we come before you today asking for your blessings upon students everywhere. We ask that you grant them the wisdom, knowledge, and discernment they need to excel in their studies.
Help them to develop a love for learning and to approach their studies with diligence and enthusiasm. We pray that you would provide them with the necessary resources and support to succeed, and that you would surround them with teachers, mentors, and friends who can guide and encourage them along the way.
Above all, Lord, we pray that you would fill these students with your Spirit, granting them a deep and abiding sense of your presence and love.
May they come to know you as the source of all knowledge and truth, and may their studies draw them ever closer to you.
We lift up to you all those who are struggling academically or who are facing challenges in their studies. Grant them the strength and perseverance they need to overcome these obstacles and to reach their goals.
Finally, Lord, we ask that you bless these students with a sense of purpose and direction in their lives. May they use their education not only for their own benefit, but also for the good of others and for the building up of your kingdom.
We ask this in the name of Jesus Christ, our Lord and Savior. Amen.
A Prayer for Students to Make New Friends
Dear Jesus, we ask for your guidance as our students navigate the social dynamics of school. Some may feel lonely, while others may struggle to find new friends.
Please grant them the courage to reach out to others and form meaningful connections. Strengthen the shy and timid students, reminding them that they are loved and unique in your eyes.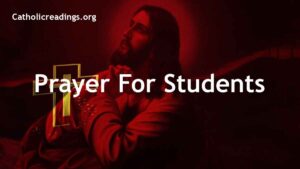 For those who lack confidence, give them the assurance they need to help others feel secure in your love.
We ask that you protect our students from bullies or those who may seek to harm them. May they choose their friends wisely, seeking your guidance in their relationships.
Teach them to be patient and compassionate, to listen to others and to speak up when necessary. Remind them that true friendship is a two-way street, where kindness and generosity are rewarded in kind.
Above all, we pray that our students will consider you their Best Friend. May they seek your guidance and comfort in all things, knowing that you are always with them.
Help them to be a positive influence on their friends, to stand up for what is right, and to be a source of encouragement to those who need it most.
We trust in your wisdom and grace, and we ask for your blessings upon our students as they embark on this journey. Amen.
Powered By SEO Experts
Follow @ReadingCatholic